Welcome to Tweeds Turntable
Tweeds Turntable is a Weekly Web Radio Show on Your Kawartha Oldies.com starting every Sunday Morning at 9:05 am EST and is 55 minutes of Soft Pop, Gospel and Country for a Sunday morning with avid music collector John 'Tweed' Patton.
Some of the Artists you may hear on Tweeds Turntable are Johnny Cash, Waylon Jennings, Hank Williams SR., Frank Sinatra, The Beatles, Peggy Lee, Little Jimmy Dickens, Audie Murphy and More! Some of this music will be from my extensive Record collection.
My Labour Day Sunday show was the music of The Movie American Graffiti. The movie turned 50 years old this summer and i felt it was time to take a trip back to the Music from that show.
The other weekend I was at Mosport for the last race of the season taking pictures with an old friend Dr. Rus. with Betty looking after the show for me. Betty suggests I can go back to Mosport ANY TIME I WANT!  Should I be worried?" You bet I should be!! You can find more pictures on my photo page or by clicking on the image below.
I have recently added some local content to my show from the Wagon Wheel Barn Dance.  the back of the album cover is under the photos tab. This will start as a monthly feature this Sunday. I look forward to be able to add more local records in the future. This week i am adding another local artist Jack Bailey as a monthly feature for my show.
My goal for Tweeds Turntable is to provide a variety of music from the 40's to the 70's for your listening pleasure on a Sunday Morning including a bit of Gospel. I may on occasion play some music from the 30's or 80's
http://WWW.yourkawarthaoldies.com 
and scroll down the page and select a way to listen.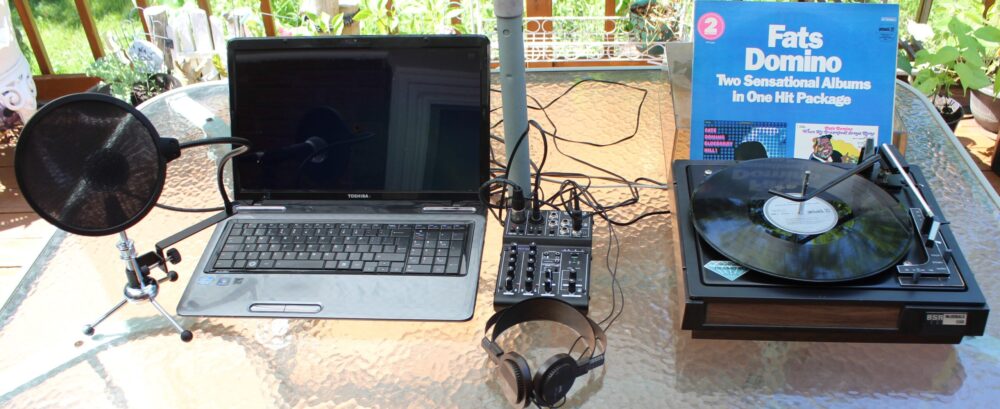 Tweeds Turntable setup
I hope you enjoy the show!
It you listened to the Tweeds Turntable and are visiting this page let me know where you are listening from by using my contact page.
Don't forget to get your Tweed on!